The U.S. Embassy in Kuala Lumpur hosted a send-off ceremony on June 8 to recognize the cadets and celebrate their admission to U.S. service academies. U.S. Ambassador to Malaysia Brian D. McFeeters congratulated the cadets and said, "These cadets represent our shared future, prosperity, and security. I am confident Ummi and Faidh will continue to forge the path ahead for other young leaders." Lieutenant Colonel Lemar Farhad, Chief of the Office of Defense Cooperation, also congratulated both cadets.
He added, "Ties between our service academies go back more than 40 years. They are a vital link between our two nations and bolster people-to-people ties while promoting future interoperability."
Major General Dato' Haji Saadon bin Hasnan, Commandant of the Military Training Academy (ALK), also participated in the event.
The mission of the U.S. service academies is to provide instruction and experience to all cadets so that they graduate with the knowledge and character essential to leadership and the motivation to become career military officers.
It takes a well-rounded program of leadership, academic, and athletic preparation to be one of the few who can meet the Service Academies' high admission standards and the fierce competition for appointment. Cadets Ummi Annur Syahmina and Muhammad Faidh Izzuddin were chosen after a rigorous selection process that evaluated their leadership potential, physical fitness, and academic achievements.
This year, 89 countries were invited to nominate candidates with the goal of accepting 15 candidates in each of the service academies. Since 1971, 39 Malaysians have graduated from the U.S. service Academies. Ambassador McFeeters expressed his gratitude to the Malaysian Armed Forces, Malaysian Army, the Royal Malaysian Navy, the Royal Malaysian Air Force, and other Malaysian military agencies for their support and partnership in strengthening ties between service or military academies in the United States and Malaysia.
Ms. Ummi Annur Syahmina binti Sohaini of Port Dickson, Negeri Sembilan has been admitted to the United States Air Force Academy (USAFA) in Colorado. Cadet Ummi is the third Malaysian woman to be admitted to a U.S. service academy after Sub Lieutenant Janushaa Bala Krishnan Muthiah, a 2022 alumna of the United States Naval Academy, and Cadet Grace Sian Ern Hui, who recently graduated from the United States Air Force Academy.
Mr. Muhammad Faidh Izzuddin bin Mat Sahari of Kuala Lumpur has been admitted to the United States Military Academy in West Point, New York.
During the ceremony, Ambassador McFeeters also congratulated two cadets who recently graduated from U.S. service academies. Cadet Grace Sian and Midshipman Muhammad Aniq Hilman bin Haslimi graduated from the U.S. Naval Academy and the U.S. Air Force Academy, respectively.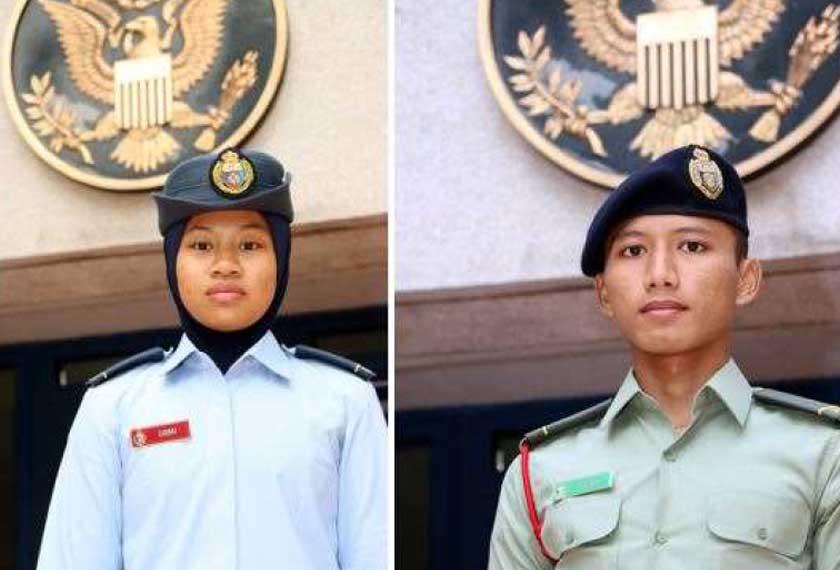 ---
** The statement is by the U.S. Embassy in Kuala Lumpur