TOKYO:
Following are the top 10 athletes to watch at the Tokyo Olympic Games to be held from July 23 to August 8:
Athletics: Allyson Felix, United States
The 35-year-old Allyson is returning for her fifth and final Olympics. The American sprinter, who runs the 400m and 4x400m relay, has collected six Olympic gold medals and three silvers. She will make herself the most successful female athlete in history by adding more Olympic medals in Tokyo.
Phyllis Francis and Allyson Felix of the United States compete during Women's 400m Final on Day 6 of the 2017 IAAF World Championships at London Stadium in London, Britain, on Aug. 9, 2017. Phyllis Francis claimed the title with 49.92 seconds. Allyson Felix won the bronze medal.
Badminton: Kento Momota, Japan
Kento Momota will compete in his first Olympics on home soil. The 26-year-old holds the record for winning 11 men's singles champions in one season in 2019. As the world No. 1, he is the top favorite for the men's singles gold in Tokyo.
Winner Japan's Momota Kento poses during the awarding ceremony of the men's singles event at Malaysia Masters 2020 badminton tournament in Kuala Lumpur, Malaysia, Jan. 12, 2020.
Gymnastics: Simone Biles, United States
With four Olympic golds and one bronze in hand, Biles will be hoping to leave her legacy as the most dominant female gymnast of all time. The 24-year-old will try to change the bronze from Rio to gold in balance beam in Tokyo.
Simone Biles of the United States competes during the Women's Vault Final of the 2019 FIG Artistic Gymnastics World Championships in Stuttgart, Germany, Oct. 12, 2019.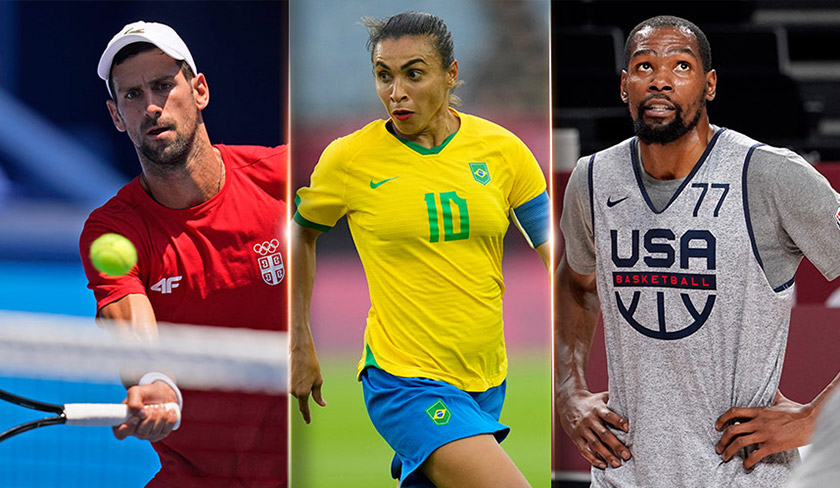 Tennis: Novak Djokovic, Serbia
Fresh from securing his 20th Grand Slam title, Novak Djokovic will be focusing on his first-ever Olympic gold in Tokyo. In his past three Games, the Serbian won only a bronze medal in 2008. The 34-year-old will be a clear favorite with the absence of both Roger Federer and Rafael Nadal, and reigning champion Andy Murray suffering injuries.
Novak Djokovic of Serbia attends a training session prior to the Tokyo 2020 Olympic Games at Ariake Tennis Park in Tokyo, Japan, on July 21, 2021.
Table Tennis: Fan Zhendong, China
Once a wonder kid, Fan Zhendong was picked as a substitute in Rio. The current world No. 1 will use his attacking style to prove himself in Tokyo. The 24-year-old is expected to help China sweep the men's singles and team events.
Chinese table tennis player Fan Zhendong attends a training session ahead of the Tokyo 2020 Olympic Games in Tokyo, Japan, July 19, 2021.
Basketball: Kevin Durant, United States
The U.S. men's team started the gold-winning streak in Beijing 2008. Two-time NBA champion and Olympian Kevin Durant will carry on the tradition to seek another Olympic gold medal in Tokyo. However, the team has only three players who competed at past Olympics. The 32-year-old has to exploit all his talents to lead the team to glory.
Kevin Durant of Warriors looks on during the NBA preseason basketball game between Golden State Warriors and Minnesota Timberwolves in Shenzhen City of south China's Guangdong Province, Oct. 5, 2017.
Football: Marta, Brazil
The 35-year-old Marta, who currently plays her club football in the United States, was named Ballon d'Or winner six times. She got the silver medals at the 2004 and 2008 Summer Olympics. As a Brazilian veteran forward, Marta is making her fifth appearance at the Olympics, and this could be her last Olympics. No wonder that she will strive for a gold in Tokyo, atoning for a disappointing fourth in Rio.
Marta of Brazil is substituted during Tokyo 2020 women's football group F match between China and Brazil in Miyagi, Japan, July 21, 2021. China lost 0-5.
Volleyball: Zhu Ting, China
Having made her national team debut at the age of 18 in 2013, Zhu led Team China to win the Olympic gold in 2016 and became a volleyball superstar. As one of China's flagbearers at the Tokyo Olympic Games opening ceremony, the 26-year-old is determined to retain the title in Tokyo.
Zhu Ting of China's women's volleyball team attends a training session at Ariake Arena in Tokyo, Japan, July 21, 2021.
Swimming: Katie Ledecky, United States
Katie Ledecky, 24, will compete in her third Games with the hope of grabbing her sixth Olympic gold medal. She is expected to compete in multiple events, including the women's 1500m, which makes its debut in Olympics. Ledecky could become the most successful female swimmer in the Olympic history, as she holds the Olympic records in the 400m and 800m freestyle, and the world record in the women's 1500m freestyle.
Gold medalist Katie Ledecky of the United States, silver medalist Simona Quadarella of Italy and bronze medalist Ariarne Titmus of Australia pose for photos after the women's 800m freestyle final at FINA World Championships in Gwangju, South Korea, on July 27, 2019.
Diving: Shi Tingmao, China
The 29-year-old won the gold medals in the individual and synchronized three-meter springboard in Rio. Shi was also named the Best Female Diver of the Year by FINA in five consecutive years from 2015 to 2019 after she won her third consecutive gold in the 3m springboard event at the 2019 World Aquatics Championships. The Olympic champion is keen to repeat her success in Tokyo.
Gold medalist Wang Han (C) of Hebei team, silver medalist Shi Tingmao of Chongqing team and bronze medalist Chen Yiwen of Guangdong team pose for group photos during the awarding ceremony after the women's 3m springboard final at the 2020 Chinese National Diving Championships in Shijiazhuang, north China's Hebei Province, Oct. 6, 2020.