KUALA LUMPUR:
In conjunction with the 99th birthday of Tan Sri (Dr.) Devaki Krishnan, the Malaysian Book of Records honoured her by presenting her with an award in recognition of being the first Malaysian woman to hold public office in the history of Malaysia.
In 1952, as part of the late Sir Dato' Onn Jaafar's Independence of Malaya Party, Tan Sri Devaki Krishnan contested and won the Bangsar seat at the Kuala Lumpur Municipal Council Elections. In 1955, she stood for a second term and won. Thereafter, in 1959, she would become the first Malaysian Indian woman to contest in a General Election; under the Alliance Party for the Sentul constituency.
The daughter of the last Acting Controller of Post and Telecoms of Malaya during the British Malayan Administration and an alumnus of St. Mary's School of Kuala Lumpur, Tan Sri Devaki played a fundamental role in shaping the early fabric of Malaysian society. Together with contemporaries such as - Sir Dato' Onn Jaafar, Yong Shook Lin, Tun Omar Ong Yoke Lin, Puan Sri Putih Mariah, Tun Fatimah Hashim, Tunku Abdul Rahman, Tun Sambanthan, Tun Tan Cheng Lock and Tun Tan Siew Sin - these illuminating figures rallied the Merdeka movement and developed the concept of a Malaysian society.
Post IMP and during the Alliance/Barisan Nasional era, Tan Sri Devaki joined the Malaysian Indian Congress and is still a lifetime member. She continued to focus and champion women empowerment, interfaith and inter-ethnic cooperation whilst playing a prominent role in organisations like the National Council for Women's Organisations, Pan Pacific Southeast Asian Women's Organisation, the Pure Life Society, the St John's Ambulance Association, Tengku Budriah Orphanage, Serendah Boys Home and Trustee in various non-profit organisations. She also played a crucial role in pushing amendments for the Guardianship of Infants Act in 1999 allowing single mothers to care for their children.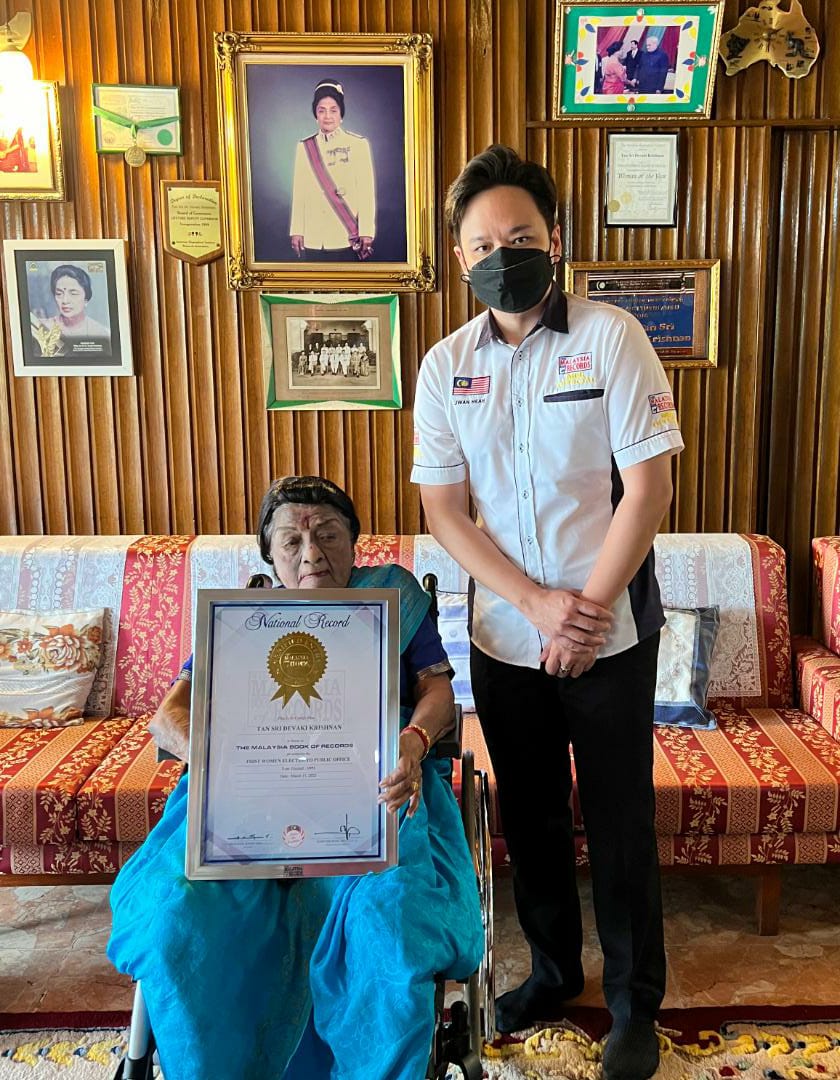 On the international stage, she was involved with the Women's International Club where her time was dedicated towards disaster relief and fund raising. In 2000, on the eve of the Millennium Summit and the unveiling of the Millennium Declaration, together with Reverend Dr. Sun Myung Moon, Tan Sri Devaki strongly pushed for the establishment of an interfaith council within the United Nations system at the event held at United Nations Headquarters in New York. For all these self-sacrifice and dedication, Tan Sri Devaki was bestowed with numerous awards such as the Serving Sister of St. John Award honoured by Queen Elizabeth and made an Ambassador of Peace by the Universal Peace Federation. She was also presented with the Tokoh Wanita Award and Tun Fatimah Award for her contributions to women empowerment and welfare services. In addition, she holds the distinction of being the first Malaysian Indian woman to be conferred the Panglima Setia Mahkota entitling her to use the title, Tan Sri.
"It is with great honour and pleasure, that we are able to enlist Tan Sri Devaki Krishnan, one of the last few remaining personalities of the Merdeka Generation into the Malaysia Book of Records to stand the test of time. We hope this will be an inspiration for all Malaysians to do the same in a selfless and devoted manner; for society, for charity, for her country.
The Malaysia Book of Records had been carrying out research on early Malaya and the post independence Malaysia era, when we came across this hidden gem. We decided to reach out and managed to unravel some very interesting findings and facts that were not fully documented and lost in history. Tan Sri Devaki Krishnan is really a 'living piece' of Malayan and Malaysian history." said Jwan Heah, Marketing Director of Malaysia Book of Records.
Jwan Heah and The Malaysia Book of Records team had visited Tan Sri Devaki in her iconic home along Jalan Berhala in Brickfields – named "Brindhavan" – after the fabled Garden of God in the Bhagavad Gita. Bridhavan is located at the heart of Brickfield's religious enclave, within walking distance of the Lady Fatima Catholic Church, Evangelical Lutheran Church, Orthodox Syrian Cathedral, Madrosarul Masjid, Buddhist Maha Vihara Temple, Sam Kow Tong Temple, Sai Baba Centre, and Sri Kandaswamy Temple. A testament to her belief of living in an interfaith and inter-ethnic harmonious society.
Tan Sri Devaki Krishnan was surrounded by her immediate family, children, grandchildren and friends
as the award was presented to her.
"Age is not an obstacle for a person to continue his/her fight. The important thing is commitment
and sustained hard work until one reaches one's target"
The Malaysia Book Of Records